Who We Are
One of the greatest challenges of our lives may be to lose weight, and body weight may be the single most important factor in achieving good health.
The Shrink Shop evolved from the recognition of three things:
Losing weight is not a mystery; we know how to do it.
People genuinely want to understand the process.
People want weight loss now!
We are incredibly proud to be an approved brand by Amazon.  To find our products just search THE SHRINK SHOP on Amazon.com
WHO WE ARE
Joanne was born in the northeast of England, which is not exactly the health capital of the world. However, as an athlete, she traveled the world and eventually settled in Venice, California as a personal trainer in the Mecca of all things fitness: Golds Gym Venice.
In the 1980s and 90s, Joanne competed as a professional bodybuilder. At the time, the sport was quite new, and it was the only avenue available for competitive physique athletes. It was the one sport that was entirely focused on body composition. Although it seems extreme to some, in order to succeed, you have to become somewhat of an expert in nutrition and physiology.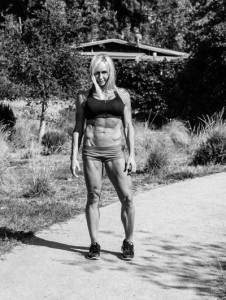 Joanne became known as the trainer that could get her clients stage-and-camera-ready. She taught her clients how to lose unhealthy weight and gain lean weight, and she showed them the last minute adjustments they could make to be ready for a special day or event.
In the early 2000s, Joanne wrote a seminar series entitled, "If Diets Worked We'd All Be Skinny" and was able to present what she knew to a wider audience. What encouraged Joanne was that people really wanted to understand how they could be better. What frustrated Joanne was that the dinosaurs in the weight loss industry were setting people up to fail with restrictive, product-driven diets that could not work in the long run.
As Joanne got closer to 50, her personal trainer business continued to thrive, but she became increasingly in-demand as a nutritionist, especially to people whose bodies were starting to change with age. They had figured out that their weight had nothing to do with calories and reached to Joanne for help.
The approaching milestone was pushing Joanne to make some changes. Joanne and her husband Kevin were splitting their time between LA and Palm Desert, and they saw this as an opportunity to create a new business. The Shrink Shop was born as a weight loss clinic in Palm Beach and Santa Monica.